Living away from home - Student and Broke
Ever since I started my first year of GCSE's, the idea of living away from home stuck in my head. And not just away to the nearby city, I mean over seas to a different country in the UK. The idea of a leaving the nest and going out on my own into the big bad world oddly sounded very appealing to me. I wanted to meet new people, be independent and take risks.
The final year of A-levels can be one of the most stressful years of your life, seeing as so much pressure is dumped on students who have to try and balance too many decisions at once. Where do I go for University? Would I get homesick if I lived far from home? What if I don't get the grades? Worry, worry, overthink and then worry some more. As I was still set on moving away (preferably England) my final year sort of guided me and simply confirmed to me that I needed to leave and "go my own way" (probably the only time in High School Musical that I actually related to it on an emotional level).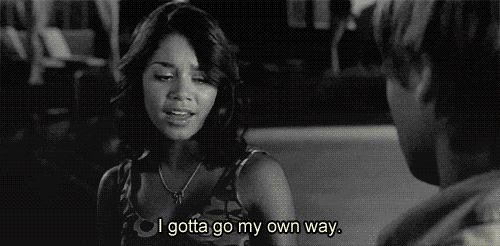 I was faced with demoralizing teachers telling me "I hope you're prepared to fail" or "this work will never be good enough". And also dealing with friendships that I needed to get out of, as it not only was making me become a nasty person but it was affecting my studies. These factors accumulated and soon, it was clear that it was best for me to leave home and find a better atmosphere.
My boyfriend had the same idea of moving away, so we set out to look for universities in England and could easily see ourselves living there. I'm not sugar coating moving away, as at times it hasn't been easy. However I do believe that if at all you're thinking about taking your own path and becoming more independent, moving to a different country can teach you many things about yourself. I believe that if you're struggling between home or away, perhaps go and visit an open day at a University that interests you elsewhere. It turns out that flights/trains across the UK can run quite cheap and won't break the bank! Imagine if you could see yourself living there, walking to class, going to the nearby Student Union cafes and hanging out with friends. Does it seem real? Then I say, just take the leap and go for it, cause I'm sure many out there can say they regret not going away from home and pursing something they truly enjoy, despite the debts.
DEBTS. It's a scary word isn't it. The horror of facing a mountain of debt after every year and spending a lifetime paying it back. I have to admit I am a worrywart when it comes to money, however if we spend our lives worrying about the debts, it can cloud our ambitions for the future.
At times it can feel lonely out there, far from the comfort of your own home. But the reality is, it's going to end up at some point in our lives where we finally leave the nest for good. Moving away is just a little head start to that. What I have learnt is that I appreciate my family and friends a lot more when I'm away. I definitely took my lifestyle at home for granted so when I return for the holidays, every moment counts and I'm a lot more thankful for what I have. Finding a great group of friends at Uni can mean the world as they can seem like family during the worst and best times. It doesn't have to be your flatmates but just someone to talk to even if it's a member of your Student Union (who will definitely be up for a coffee and a chat) during times where you feel a little homesick because honestly, it is normal to feel like that and soon will pass. We are so fortunate to be living in the century where we can connect with family through social media from all across the world. So a little chat when you're missing home is just a Skype call away.
Another thing to bear in mind when away from home is storage. From bedding to kitchen utensils, there is a lot of stuff that simply cannot fit in our suitcase to return home for summer. Storage units tends to be plotted near campus in order to allow students to rent out lockers or storage rooms for as long as they need. My boyfriend and I use Ready Steady Store as we both believe that this is a reliable and trustworthy service and the staff were very friendly, guiding us through the whole process. From researching into other storage unit companies that were close, this company worked out as the best value over the summer period and fortunately was the closest to our house next year.
(ask us how we managed to fit ALL of our stuff into a 9sqft locker I do not know...)
In addition to that, Christmas can be a hectic time and I found that with my little carry on suitcase, there was absolutely NO chance that I could fit all the things I received in it (by things I mean all the yummy sweeties and chocolate of course). I was recommended by the local post office to use the student service called 'Unibaggage' which allows you to transport your items over seas and doesn't have strict laws about containing liquids etc.
So what have I gathered from a year away from home?
It has taught me to appreciate my family more and be more grateful for all they've done for me.

It had made me a lot more independent.

It has made me realise how important it is to talk to someone when I'm feeling lonely or homesick.

To value the importance of friends at uni and treat them like family.

To not be burdened by the worry of debts.

To simply take a leap and pursue what I want no matter how far from home it may be.
I hope these things come useful for when you decide to take your own leap.
Soph x
Currently Reading: The Clever Gut's Diet- Dr. Michael Mosley
Currently Listening to: Hell or High Water - Passenger