Travelling on a Budget- Student and Broke
It's the end of the academic year, results are out, you're happy (buzzing to say the least), there's just one thing circling around your head, a holiday would be great right now...however your bank account is saying otherwise. It's safe to say it ain't one bit easy being a student. Planning is key for a holiday, I mean, as is most things. As a student, even a trip to the nearby Weatherspoons seems a little pricey never mind a trip abroad. Many people think that a 'holiday' is defined by going abroad, away from the comfort of your own home. That's not always the case as often, we tend to exclude our own country as a possibility. Yes it is understandable that the weather plays a huge factor in this. The UK is bursting with nature from all angles, however many of us have a tendency to miss that due to the permanent grey sheet that covers our skies. A holiday can be a weekend spent in the highlands or a trip to London. Either way, wherever you have your heart set on going, it does mean spending money. Here are some tips from my experience on how to plan and budget for a holiday as a student and broke.
1. Where do you want to go?
Ultimately, where you decide to go comes down to how much you're willing to save for it. A holiday can cost between £150-£1,500, fortunately for us, 2018 offers a ray of travel possibilities at low prices. It's simply down to finding the right ones (a little more on that later).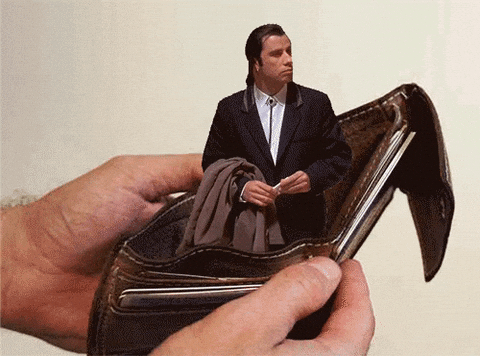 2. Can you save enough? The average student receives £3,000 (maintenance loan) per term which is September-December, January-March, April-June.
Your maintenance loan has to cover for: •Rent
•University books/equipment
•Food & toiletries
•Additional spending (clothes, shoes etc.)
•Socialising
Seems like a lot eh? So how on earth could there be money aside for a holiday? This is where budgeting becomes your best friend. Perhaps something like a bullet journal or an Excel spreadsheet comes in handy. I was so fortunate for my dad to quickly whip me up a spreadsheet before I went to Uni as truthfully, I didn't have a clue on how to budget before I arrived. So the spreadsheet is where you lay out all of your income, spending and total. Your income can be your maintenance loan, part-time job or even online sales. I put down my monthly interest from my bank as income too, yes it seems silly as it can be so little but hey it counts. Take your current spending away from your income and you're given a total.
So here it goes, the technical part. If you're living on, let's say £200 a month (now this is a very rough amount as I am not sure of the exact average a student lives on per month), about £80 of that would go towards food and toiletries. Then another £40-£50 on socialising (because we all have to have a little break once in a while). You've spent about £120 so far with £80 left...if you're really looking to treat yourself then about £30 of that can go towards additional things. Students are in university for around 8-10 months in a year, so saving £50 a month starting from September could save you big bucks.
Ways in which cost of food shopping can be cut down is simply go to cheaper shops if you're not already. Aldi is right beside our uni and probably the best thing we've got around Our shopping bill is cut by half compared to the likes of Asda or Tesco. To give you an idea, I lived on a 30p bottle of own brand shampoo from Aldi and it did no harm! Also, my American flatmate makes the decision every few months to buy the 3kg bag of pasta for £2.95 from Asda which lasts him ages. Having a 30p bottle of shampoo or massive bag of pasta can mean a difference, you may not see it at the time, but trust me, it does.
Each month, my aim was to save over £50 on my income. So, every month I tried to increase the amount I saved to the month previous to that. In the end, I managed to book myself a crazy backpacking adventure along with my boyfriend and 2 flatmates to The Philippines and an Interrail trip across Europe in September.
So my answer is yes, yes you can save enough to go on a holiday if you have a goal and work towards it with a bit of self-discipline. Avoiding maybe a night out a week or that tempting takeaway meal between lectures can save you more than you expect in the long run. It may be hard to resist the temptation at times, but honestly, you'll thank yourself when you're sitting taking sausage leg photos by the beach with a cocktail in hand, sounds good doesn't it?
3. Where do I look for a holiday?
Many trips out there can run quite cheap, especially for a student. I advise looking at sales and peak times for offers such as Black Friday weekend, Cyber Monday or Boxing Day/January sales which can have great prices for flights.
Interrail Europe is a student orientated website that enables you to travel all across Europe via rail for a cheap price. It has great offers for students all year round including Black Friday Weekend, allowing students (ages 12-27) to save up to 50% off standard adult prices. My boyfriend and I saved around £80 when booking our Interrail tickets on Cyber Monday, which can mean a lot for a student if you're really on a budget.
The likes of Skyscanner, Kayak and Momondo are fantastic sites for comparing and finding the lowest prices being on a budget. Peak times such as summer, Easter and even Christmas will rip you off so trying to work around that is best. Usually most students finish around May-June which are less tourist-ridden as well as September as not all lectures begin on 1st. It is a perfect time as everyone is back to routine so less tourists and cheaper flights (also you get the end of the summer heat which is a bonus).
Accommodation can be (at times) even cheaper than a meal abroad, depending on where you look. Airbnb is your savior as a student on a budget, I know it definitely is for me. You can chose to go out for dinner however on a tight budget, it is so easy to run to the nearby shop and cook something at your Airbnb. HostelWorld can be another great and cheap option but for some, the word 'hostel' can send some shivers as there have been some wild stories that take place in a crowded, bunk bed room. So, splashing out just a little extra can mean the world between a good nights sleep and a non-existent one. But hey, if you can hack it, go for it! A hostel can be a great place, despite its cons, to mingle with fellow travellers and get some tips and ideas on where to go.
It may be a little late to book yourself a holiday at this time of year for a cheap price, but like I said, what is stopping you from heading to somewhere nice in your own country?
So hopefully, I've given you some helpful tips for travelling on a budget. Is there anything I've missed? Anything you believe would help even more? Let me know in the comments below!
Soph x
Current status: Northern Ireland
Next stop: Donegal, Ireland